I recently had a few hours to spend in Washington DC, and although I did breeze through a few museums (Native American, Air and Space, Art) on that hot and humid rainy day, I made sure to make it to the National Botanic Garden.

From the outside and the map it looked relatively small (compared to the Missouri Botanical Garden), but I knew I wouldn't be in DC again soon -- it had been 20 years since my last visit -- so I was excited and eager to see what it had in store for me.
I didn't get too many outdoor photos as it was raining all day, and even though I had my little point-and-shoot camera instead of my good one I didn't want it to get wet.
So I started indoors in the Conservatory. The main atrium ("Garden Court" on the map) is a great space with a very high ceiling.
It's high enough to grow some decent-sized trees and bamboos:
There are a couple of colorful pools in this long room too -- they really make the space more interesting not only with their color, but with the sound of the water:

Before moving on, it's probably a good idea to show you the floorplan of the conservatory: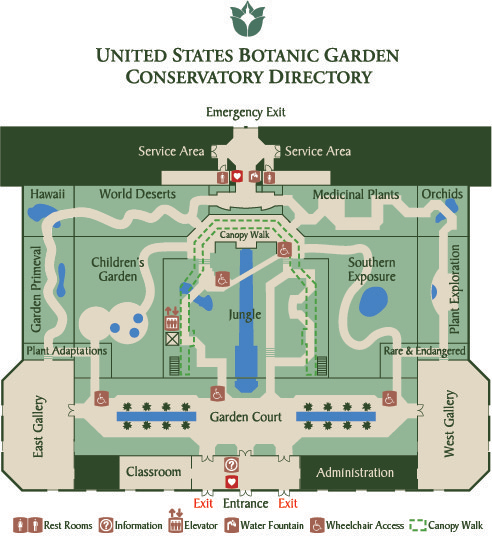 The Children's garden and Southern Exposure gardens are outdoors, but everything else here is under glass. The "Jungle" is housed in the big, tall greenhouse that you can see from other parts of The Mall, while the other rooms are less gigantic.
I didn't take photos in every room, as sometimes I like to just enjoy the space that was created. I took the path to the left, through "plant adaptations" and "Hawaii", and "Garden Primeval":
Although I walked through those quickly, I spent some time in "World Deserts" as it was dry and surprisingly cool in there -- remember, the day was very humid and I was still damp from the rain.





A panoramic view of the room:



That Elephant Bush on the right is huge -- for an indoor version. I need to repot mine so it gains some more size!
After cooling off and getting dry in the desert, I went into the jungle, which wasn't as steamy as I thought it would be:
After walking around down here a little while, I found the stairs to the catwalk!
Up here it was a bit like walking into another room, as not only do you get to see the ground plantings from a new viewpoint:
But you get to see plants that are not found down below, like Tillandsia:
Plus you get to see the other greenhouses, and how this central one towers over them:
But now I wanted to get to that even higher catwalk:
I don't think they want visitors climbing the access ladders though, although that would be an extremely unique vantage point!
Back in the Garden Court on my way outside... look, another bamboo:
Then I spent a little time walking outside. In the light rain and thick, wet air.
Gravel walkway support -- nice, and an interesting look!
Their pond was a bit larger than mine.
As I headed to the airport a couple of hours later, the weather reports were saying that tomorrow would be cooler, sunny, with drier air and no chance of rain. I guess I timed my visit perfectly. Sigh.
Still, I'm glad to have had the chance to see another great botanical garden!
.